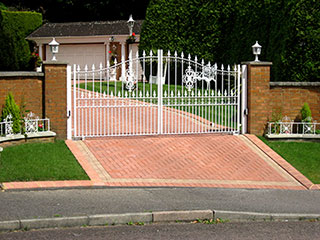 Gates, either wrought iron, wooden or ornamental ones, are extremely important for properties with yards or big gardens whose owners want to protect the premises and ensure privacy. The truth is that the presence of a barrier fence can be a deterrent just by the fact that it exists. There are certainly many styles, types, sizes and designs to choose from when looking for a new gate system, and you ought to thoroughly think through all the options and your personal requirements before you choose one.
Welcome To The 21st Century
An automatic electric gate can offer convenience, ease of access and greater safety. Being able to operate the system with the push of a button without the fuss of getting in and out of the car is by far the ideal way to do things. Modern gate openers (also known as operators) have safety sensors that allow them to tell when there's an obstacle that needs to be avoided, and they can also be operated using your very own smartphone, thanks to the WiFi connectivity features that many of them boast. This can also allow you to open and close your gate from practically anywhere. A lot of modern models also
Easy Visitor Identification
The ability to communicate with people waiting on the other side of your gate can be invaluable, especially in terms of security. With the addition of an intercom system, you'll be able to do exactly that, and visiting guests will be able to immediately communicate with you when they arrive so that you'll be able to verify that they are in fact who they say they are and then remotely open the gate for them.
What Is The Best Gate Material?
Most people choose wrought iron for its durability and for the classic appeal this type of design offers. However, this type of material will need to be applied with a protective coat to prevent it from rusting. A wooden gate also has a beautiful classic look that many home and business owners tend to go for. However it too will need regular maintenance as the constant exposure to the elements can cause parts of the frame or the gate posts to rot, and annual repainting efforts will probably be required. Whether you're looking to get a new gate installed for your residential property or for your commercial business will determine exactly which style and what qualities will be the ones most suitable to your needs. We'll be happy to consult you on this and to answer all your questions.