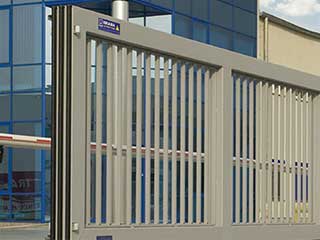 The automatic gate of your commercial property is your business's doorway to the world. A faulty system can cause huge problems for any company, from preventing or delaying visitors and shipments to potentially compromising security and causing accidents. It's essential to ensure that any problems with your automatic gate are addressed as quickly as possible, and that they are thoroughly repaired so that they don't just come back a couple of days later. Our team is fully prepared to solve problems with any type of commercial gate system, so no matter what type of problem is affecting it.
Solving Problems With Intercom Systems
Even a fully-functional gate can be rendered useless if its phone entry system doesn't work properly. This essential security and convenience feature can be susceptible to numerous different issues, but thanks to our many years of experience in the industry our team is capable of handling any problem that may arise. Whether it's a wiring issue or physical damage to the device itself, our experts can help.
Different Types – Different Problems
There are all sorts of different types of automatic security systems in use today, from sliding and rolling gates to swing-style mechanisms. They all use different components and work very differently, which means they can be susceptible to different problems; swing gates can develop cracks in their hinges and may require welding repair, while sliding gates can get out of alignment and their wheels or tracks can become damaged. No matter what type of system your business has, our experts will ensure that it's brought back to full working condition in no time at all.
Call Us Whenever You Need Us
Our experts understand that when something goes wrong, getting your automatic gate working again is probably your number one priority. Time is money, as they say in the commercial world. That's why our team here at Gate Repair Azusa is available 7 days a week, with emergency same-day appointments for urgent problems. No matter what you need help with, our technicians can take care of it.