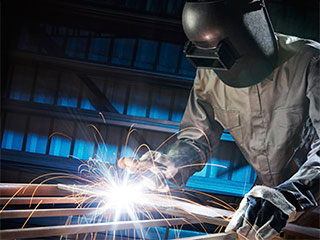 An automatic gate makes your life much safer and more convenient, but it can also cause some serious problems if it stops working correctly. A driveway gate that won't open or close can bring your day to a screeching halt, as it can mean you won't be able to get in or out of your home or business, and may compromise your security. Fortunately, our team is here for you.
Automatic Gate Repair Experts
This type of system can suffer a variety of electrical and mechanical failures, including faulty wiring, malformed and/or rusty tracks or hinges, and damage to the gate itself or to its surrounding fence, caused by accident or malice. Our team is thoroughly experienced in both mechanical and electrical repairs, and keeps a diverse supply of replacement parts in stock to be able to help every customer as quickly as possible.
Electric Gate Remotes and Intercoms
This automatic system needs to do more than just be physically capable of opening and closing. A faulty remote control system or intercom can make your system almost impossible to use, not to mention, very annoying to deal with. Malfunctioning safety sensors can also pose a real danger and may result in damage to vehicles or people. Fortunately, our team also offer repair and part replacement services for anything from the remotes to the automatic gate opener and its sensors, so you can count on us to always provide the effective solution you need when you need it.
Thorough Troubleshooting and Maintenance Services
A visit from our team always includes a full set of tests to make sure your system is functioning at full capacity from top to bottom, including all of its subsystems and special features. This not only ensures that our repairs or installation were successful, but also helps you catch other problems you might not have been aware of before they become serious. Our technicians will always be happy to give advice on how to treat your system going forward, as well as recommendations for replacement parts or extra additions to your electric gate opener that best fit your needs and budget.
Call Us Today
When something goes wrong, you'll need the response to be fast, so if you're looking for professional gate repair services near you, our team is the one to call. Anyone who lives or works anywhere within Azusa or near it can count on our help. Get in touch with us as soon as you find a problem.
We also take care of:

Rollup Gates

Elite Gate Opener

Automatic Gate Repair

Phone Entry Systems