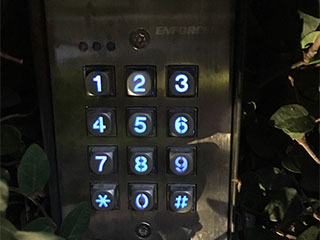 A phone entry system greatly increases the convenience and security of any gate. If your automatic barrier doesn't have a working intercom, you should change that as soon as possible! There are several different kinds of systems, each with its own merits and drawbacks.
The Wireless Method
In today's world, wireless intercom systems have been getting more and more affordable. A wireless phone entry system is much easier to install, doesn't require any unsightly wires connecting your house to your gate, and is less vulnerable to damage, because there's no need to stretch wires that will be exposed to weather conditions. However, if your house has signal dead zone issues, wireless connection might not be as reliable. Some more advanced wireless systems can also be connected to your smartphone, leaving the operation much simpler.
The Wired Way
Older or cheaper intercom systems use an old fashioned insulated cable to connect the gate with the control unit. A wired intercom works best when the gate is only a short distance away from your house, so there isn't need for a very lengthy wire to be exposed to the elements. In any case, the cable needs to be secure, and to not get in the way of people walking or driving past the area.
Intercom Repair and Installation
If you're having a driveway gate installed or repaired, you should ask an expert (preferably one of ours, of course) what kind of intercom system would best fit your needs and price range. If you already have a wired system installed, damage to the connection will be the most likely point of failure, but phone entry systems of any kind can be damaged if dirt or water gets inside the main unit. If you have a smart system, your gate controls may also be vulnerable to software malfunctions.
Get In Touch With Us Today
Our expert team is familiar with every type of intercom system available today, and our technicians can repair any wiring, hardware, or software problem you may encounter, as well as install brand new devices. Our Azusa - based team is always available to help you with all your gate intercom repair needs, or if you're looking to have a new phone entry system set up.