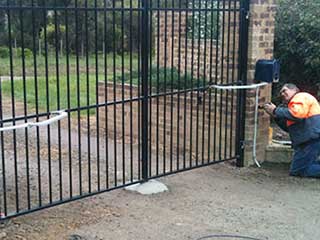 Whether you're looking to enhance the curb appeal and security of your property with a beautiful new wrought iron gate, or you need a modern replacement for your old system, we're ready to help. There are many different types of gates you can choose from, and it's important that you find the perfect one for your property.
First Thing First – The Material
Before beginning, our team will work closely with you to establish your exact requirements; we'll look at your driveway or the area in which you want to have the new gate installed, and make recommendations as to what are some factors that you should take into consideration. There are different gate materials to choose from, like wrought iron, steel and wood, all of which will have different maintenance requirements and different possible problems that they may experience. Some types of materials may be less than ideal for your needs, while others can be a perfect fit.
Choosing a Gate Type
There are several different automatic driveway and security gate systems available, from swing to sliding models, and even custom installations. Each comes with different advantages and disadvantages; sliding gates take up less space, but also often require tracks to run along. These tracks can become clogged with debris, which means they'll need to be checked and cleaned regularly. Swing gates require a certain amount of space to move, and their hinges are under a lot of strain and need to be cared for appropriately. Before making a decision you'll need to make sure you consider every influencing factor, so it'd be a good idea to consult with one of our experts.
Remember The Opener
The motor unit (sometimes called an operator) that your gate needs to become automated, matters a great deal. There are all sorts of models to choose from, and different types of functions that they use to move the frame. Swing gates will need a different unit than sliding ones, and it's important that you find a model that's also capable of producing the necessary horsepower to move the weight of the door's material.
Our Installation Process
We take great pride in fitting your home with a new gate system. Not only does it help keep your home and property secure, it's also the first thing that visitors will see when they reach your home. That's why we ensure your gate is installed to the highest professional standards, so you can be confident that it both looks great and works perfectly.
Get More Information
There's no reason for you to guess which type of automatic gate system is going to be the right one for you. We provide a full start-to-finish service, so go ahead and get in touch with our experts at Gate Repair Azusa to help you find and install the perfect system for your property.
In addition, count on us for:

Gate Motor Repair

Gate Opener Service

Solid Sliding Gates

Linear Gate Intercoms