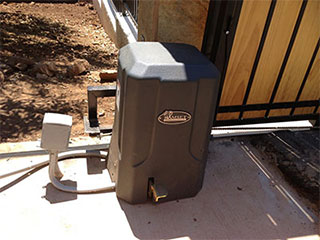 Are you looking for a professional gate opener service nearby? Then look no further! From repairs to replacements and even new installation projects, our skilled technicians have the attitude, expertise, and knowledge to deliver the best results, on time, every time.
Opener Replacement Specialists Near You
Whenever there's something wrong with your opener, motor or remote – our experts can fix it ASAP. What's more, if we can't restore it to its former glory, we can provide a suitable replacement. Don't settle for an old unit that isn't living up to your expectations when we can install an upgraded model for extra convenience! You can find the latest models of all the leading brands including LiftMaster, Ramset, Doorking, and more.
Hassle-Free Professional Solutions
Automatic gate openers can face a number of issues, and the motor isn't always at the heart of the problem. A burnt electrical wire may be preventing the unit from working, or it could even be that an insect has caused the photo safety sensors to malfunction. Fortunately, our technicians are able to professionally identify and rectify all your gate opener related problems with the minimum of disruption and hassle.
Opener Keypad Benefits
An opener keypad will allow you controlled and convenient access to your property. To gain entry, all you have to do to open the gate is enter your chosen passcode. You can change the code as often as you like. Plus of course, you will enjoy added security by preventing anyone from entering without the correct code.
Superb Service & Solutions
Whether your problem is major or minor, you can rest assured that you will get expert help and advice from some of the most experienced technicians in your local area. Want to learn more about what our experts at Gate Repair Azusa can supply? Contact one of our local technicians to make an appointment today.
Want more? Let us take care of:

Rotten Gate Repair

Liftmaster Gate Opener

Parking Garage Gates

Doorking Gate Intercoms