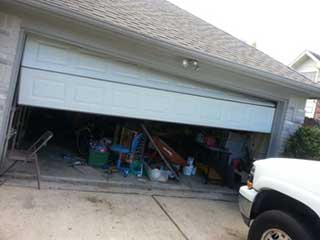 Don't let our company name fool you. Fixing automatic gate systems isn't all our team does. If your garage door stops working for whatever reason, or if you're looking to have a new electric opener installed, our technicians are here to help. While there are a lot of similarities between these two mechanisms, they are not the same, and variations do exist. However, you can rest assured that our experts know exactly how to handle any issue your door or gate may encounter, and to provide an expert solution in a timely fashion.
Did a Spring Just Break?
Garage door systems work by using powerful springs to provide them with a counterbalance. That's why you can open and close them manually with relative ease. However, when one of these units breaks, the entire mechanism will not be operable, and professional spring repair will be needed. Dealing with these devices can be incredibly dangerous, and any replacement or tension adjustment should be left to the experts (like our technicians) to avoid potential injuries.
Why Won't My Garage Door Close?
If you find yourself asking this question, and don't understand why your garage door keeps reversing when you try to close it, our team has the solution. More often than not, this type of problem is due to an issue with the tracks, or misalignment of the safety sensors of the opener. Regardless of what's causing the problem, count on us to troubleshoot and solve it. If track repair is required, or of any of the rollers or the sensors need to be replaced, our experts will take care of it in the shortest time possible.
Don't Hesitate To Call
Never try to repair your garage door yourself. This mechanism operates under a lot of tension, and mishandling it won't just lead to more problems, it can be downright dangerous. Your safety is the most important thing, so leave things up to our experts at Gate Repair Azusa. Your door will be back to its old self in no time. Get in touch with us today to receive the fast same day repair service you need and deserve.